In a few words, can you explain your job?
I am a microbiologist specialized in extreme environments, which means environments in which human couldn't live, such as volcanoes, ocean floors, etc. Since I was 6, I dreamed of being a sea biology researcher: I had my future all planned out! I went to University and wrote a thesis in a laboratory in Brest. Then, I went to Iceland to complete my postdoctoral research, and after 2 years, I was recruited as a researcher. Our microbiology team is partnered with Matis, a food security company, meaning I have better access to nutrition topics.
How did you go from working for a food-research company to searching for life on an Icelandic volcano?
Iceland is a very unique country, it's a real open-air observatory! There is an island exclusively reserved for scientists, which was formed thanks to a volcanic eruption below sea level: it's called Surtsey island. Our microbiology team filed a proposal to collect air and earth samples after the Fagradalsfjall eruption. It was very exciting: having access to fresh volcanic rocks! But, the first lava flow hasn't settled yet; we have to be very cautious before gathering samples.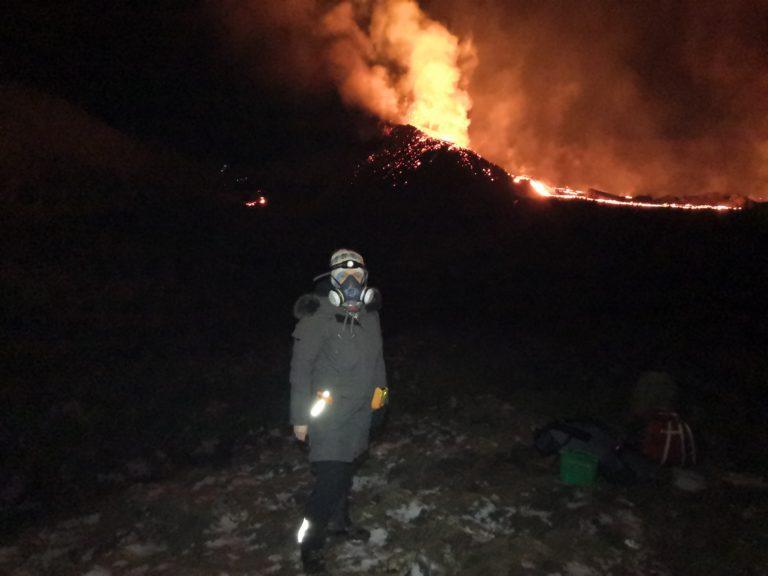 Could you explain the aim of this expedition?
Volcanic rock research show that a month after an eruption, microorganisms can be found. They can adapt to any environment, even really extreme ones. Our goal is to prove that life is developing and moving everywhere: for example, we even found cells from Iceland in the Alps! We're now waiting for the result of analysis to know if the DNA changed during the move.
Your work in Iceland also highlights the severity of the effects of climate change. What is your vision of the future?
It's true that Iceland's changing environment and biodiversity are results of changes due to climate change. Not long ago, fishermen would not have been able to find any mackerel on the outskirts of the island; today, their nets are full of them. Marine mammals are not migrating anymore to find food. Seaweed has appeared, due to the melting of the ice caps and too many nutrients. Unfortunately, despite all these observations, there is still little awareness of them. Yes, people listen to scientists more nowadays, but nothing is changing! In Iceland, the COVID-19 crisis had a significant impact on tourism, which is the country's main source of income. The government took different measures to protect its nature and bring back tourists. For the future, we will have to double-down on our efforts to limit our impact; nature will always come back fighting!
Did the expedition increase your awareness? What messages would like to get across?                                                                       
Living in Iceland and working in nature naturally confronted me with the impact we're having on our environment and biodiversity! It has also impacted my way of living, and I wish I could say that everyone is environmentally aware. People should travel responsibly, avoiding lonely road-trips in the country for example! People don't realize how dangerous it is, a blizzard can be surprisingly dangerous. It is essential to respect nature! If we take the example of the Icelandic people, they have always wanted to protect their country and are in perpetual adaptation. We have a lot to learn from them in France, environmentally, but also on socially speaking aspect. As a married woman, mother and scientist, in France, I couldn't work that much. In Iceland, parental leave is the same for men and women: each parent has six months to take care of his or her child, which is very motivating. They also score very highly in equal pay. We should really be more open to other models and look beyond our own opinions and experiences!
After Iceland, do you know where your next expedition will be?
I would love to go to the Antarctic to study the differences and similarities between the microorganisms from the two poles. I have also thought about going to Australia with my family. We love living as expats, learning from each other, discovering new cultures, and being in contact with local people. 'Trip' is a synonym of 'open-mindedness' in my opinion! But for now, I am staying in Iceland!