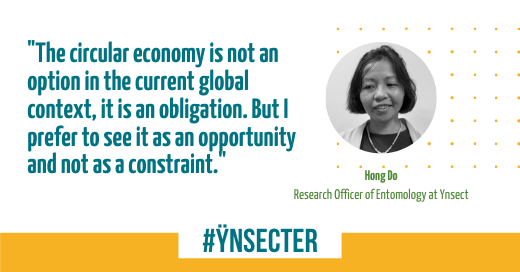 Hong is an Entomologist who joined Ÿnsect in 2013 as Ÿnsect's very first employee! After studying at the ENS in Saigon, Vietnam, she won a competition from the Agence universitaire de la francophonie (AUF) which gave her the opportunity to come and study in France. She studied Entomology and obtained a PhD in Biology and Evolution at the CNRS.
Her first experiments were on the mass production of insects for biocontrol at INRA and CIRAD to protect crops.  She discovered that the action of auxiliary insects protects crops against pests.  These auxiliary insects fight against the sugarcane stem borer in the Indian Ocean against the tomato leaf miner in the south of France and North Africa, and against the palm weevil in the Côte d'Azur.
So why did Hong accept the Ÿnsect challenge? In her words, she is "an explorer who loves risk" and was "impressed by the audacity of the young co-founders". Hong has been a great contributor to Ÿnsect and has evolved with the company in different positions. Today  she is "Start-up  Expert "Within the project team, she works on our vertical farm in Amiens. Her day-to-day work is to make sure that the technology of our 4.0 farms will always adapt to the sensitivity of a farm's life.
What she likes about her job is: "Change! It's always evolving and I love it. Everything is new, you have to be mentally flexible and that's great, you don't have time to get bored. It can be stressful, but you have to be able to question yourself, adapt and change. "
For Hong, the circular economy is not an option in the current global context, it is an obligation. But she prefers to see it as an opportunity and not as a constraint.
" We need to optimize resources, as nature already does. Trees, for example, know how to do this well: when a tree grows in one place, it knows how to adapt to its local ecosystem in order to develop as well as possible and for as long as possible." 
What about insects in the Food industry? Hong thinks they are still a fad in the West , but who knows? In the years to come, insects could become a full- fledged part of our food as is already the case in Asia and Africa! In areas of malnutrition or disaster, bars rich in good quality insect proteins could help improve people's lives.